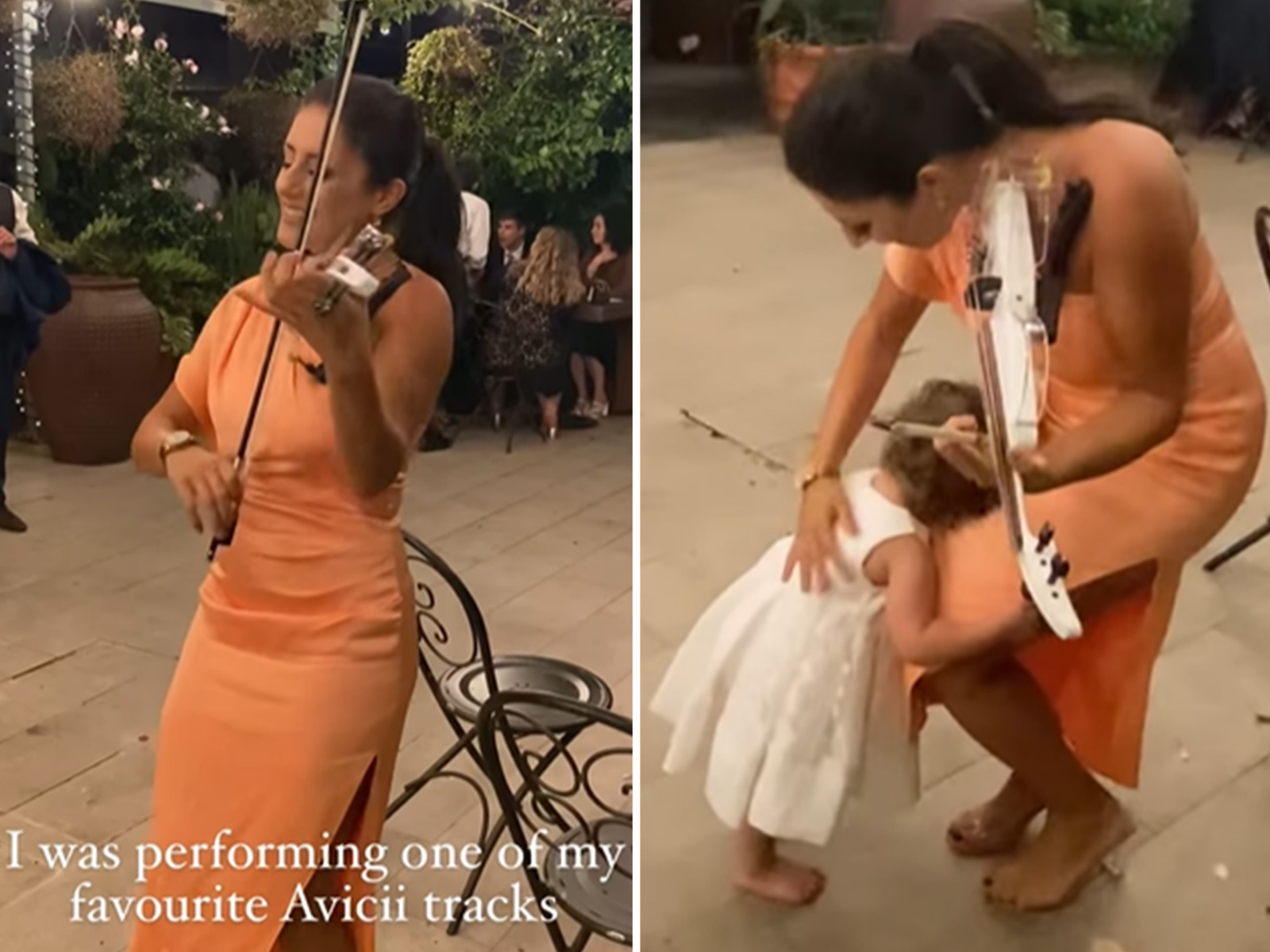 Adorable Moment of Little Girl Kissing Violinist Melts Viewers' Hearts
A little girl's adorable reaction to a violinist melted viewers' hearts.
Australian musician Melissa Voyias shared a clip of herself performing "Hey Brother" by the late Swedish electronic artist Avicii to guests at a wedding reception in Sydney last month on her TikTok account.
The musician, who specializes in classical and electric violin performances, was playing the piece when she spotted the "cutest little wedding guest" staring intently at her rendition.
As Voyias came to the end of the song, the little girl was so moved by the performance that she immediately ran up to her and hugged her, before the violinist leaned over to chat with the whole- little.
According to a 2017 review published in Frontiers in Psychologymusic can improve learning abilities and encourage cognitive development in children, particularly by aiding functions such as planning, working memory, inhibition and flexibility.
The report suggests that music can benefit a child's educational needs by providing a mode of self-expression and an outlet for emotions.
Voyias started her own musical journey at the age of 5 and from an early age she would prepare a piece of music to play on the violin for each member of the family as a Christmas present.
The footage was originally shared on musician violonbymel's TikTok page, where it received 2.8 million views. It has since been reposted on Reddit, where it garnered over 400 comments and 59,000 votes.
In the clip's captions, Voyias wrote, "I was performing one of my favorite Avicii tracks, when I spotted the cutest little wedding guest. Wait for her reaction!"
The camera then turned to the little girl, who stood in a white dress, delighted with the performance, before running up and squeezing the musician's leg.
Users were wowed by the footage, with many calling the clip "beautiful" and saying how moving it was to see a child so inspired by the performance.
"It's amazing the impact a moment like this could have 🙂 she might be inspired to become a musician herself," one wrote.
"It's crazy to think that we are most likely witnessing a little human's first emotional reaction to music, a usually private thing that everyone has experienced," another user said.
A third commented, "Literally everything about this video is beautiful. The violin, the vibe, the people, the music…love it!"
"What makes me think is that this particular moment probably defined the whole life of the little girl," said another.