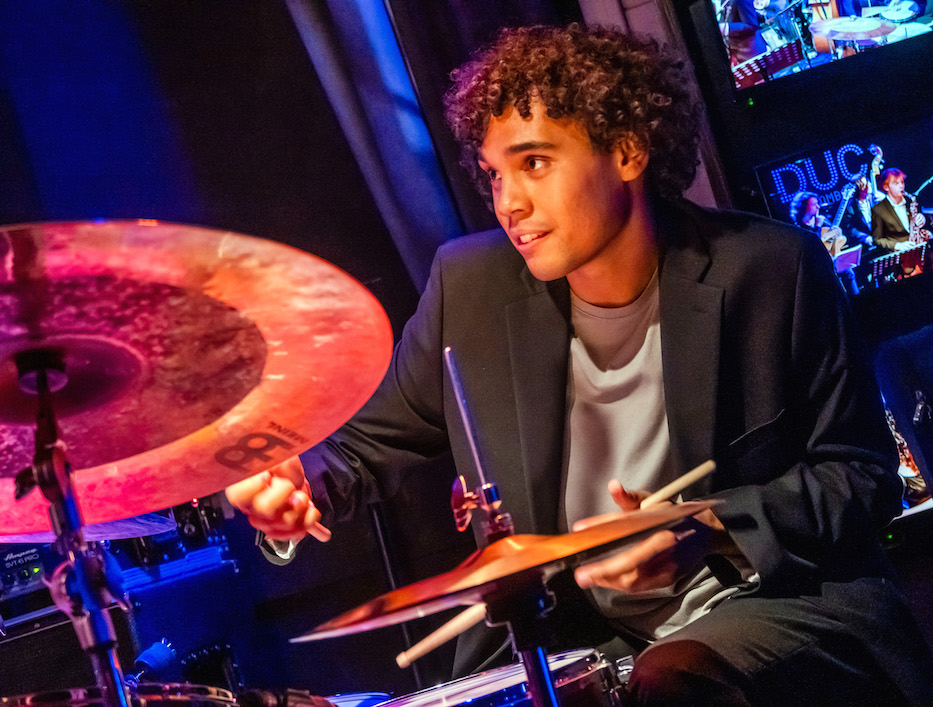 An emerging composer arrives on the festival's main stage
Kot performing earlier this year, at the Duc des Lombards in Paris. Marion Ruszniewski Photo.
An emerging composer wanted to tell the story of musicians in the Covid-19 pandemic. The New Haven Symphony Orchestra wanted to hear what it had to say. So he turned to his keyboard and began to write.
Now New Haven has a chance to hear it.
This composer is Anton Kot, 20, a graduate of the Educational Center for the Arts (ECA) who will premiere his composition "Let's Try This" with the New Haven Symphony Orchestra this Saturday, as part of the International Festival of Arts and Ideas. Before the concert, Kot said he was thrilled to be back in the city that taught him to be a musician.
"Sound has the ability to create memories that change your perspective on life," he said in a recent Zoom interview with the Arts Paper.
From an early age, says Kot, he was very fascinated by the sounds around him. Growing up in Williamsburg, Brooklyn, he tried to mimic the sounds of subway stations as trains rumbled and pedestrians raced to catch the right one. At home, he drummed on the table with chopsticks, listening to the thin sticks hitting the hard surface.
His parents introduced him to his first drums when he was only three years old and to piano lessons when he was four years old. He composed a piano piece called "Snowstorm" when he was about four or five years old, after seeing composer Philip Glass playing Roulette nearby.
When Kot was seven or eight, he moved to Milford with his family. IIt became his gateway to New Haven and to the Neighborhood Music School, where he studied with teaching artists Jesse Hameen II, Rina Kinber and Jeff Fuller. Perhaps because they are all professional musicians themselves, he said they have been very supportive of him on his journey, and he has been able to discuss "heartfelt" things with them.
He also studied at ECA, as well as a pre-college program at the Manhattan School of Music and summers at Litchfield Jazz Camp. When Kot was 16, he was able to perform at the International Gamelan Festival in Solo, Indonesia, with older peers from Wesleyan University. "It not only expanded my perspective of the world, but of the arts as a whole," he said of the experience.
It was also during these years that Kot began to compose seriously, joining the NHSO's Young Composers Project in the 2018-2020 cohort. Years later, this connection with the organization would lead to the Arts & Ideas main stage.
Professor NMS Hameen congratulated his former student and said he was very happy to hear Kot's composition on June 11. Kot was under Hameen's tutelage for over a decade and studied genres such as Afro-Caribbean, jazz and rock. As early as middle school, Hameen said, he was composing works. Hameen described Kot as a "serious, mature student who likes a challenge".
"I would give him something in the traditional form and tell him to do it Anton," he recalled. "Put his own spin on it, and he's still been able to do that."
Hameen also noted how helpful Kot was as a student. He often helped set up the equipment for various gigs at the NMS and seemed very community oriented, always ready to mentor his comrades as he developed his own musical footprint. Hameen said he hopes that in the future Kot will become an instructor, passing the torch to future musicians just as his teachers passed it on to him.
"He always left people with a smile on his face and had a great sense of humor," Hameen said.
Kot began composing "Let's Try This" at the start of the pandemic, during his senior year at ECA. At that time, he was completing a two-year term with the New Haven Symphony Orchestra's Young Composers Project, which pairs a professional composer with students from the school. Originally, he said, he wanted to demonstrate how art has been affected throughout the pandemic. In particular, he wanted to create a sound that reflected the hardships musicians faced during the pandemic as the world closed around them.
It has gone through many iterations and revisions since then, in part because Kot has continued to grow as a musician. In the fall of 2020, he began his studies at the Steinhardt School of New York University (NYU). At NYU, his teachers have included Lenny White, Alan Broadbent, Ari Hoeing, Dezron Douglas, Brad Shepick, and Bobby Sanabria.
He never forgot New Haven, he said – it's his musical home and his launching pad. After New Haven Symphony Artistic Director Alasdair Neale heard Kot's composition "Rise" at the 2021 virtual NHSO Gala, he commissioned Kot to write a full piece for the 2022 festival.
In May of this year, he studied in Paris and played in two jazz clubs, Le Duc des Lombards and Sunset Sunside. During his stay abroad in the City of Light, he had the chance to learn from Laurent Coq, Sébastien Paindestre and Antoine Banville. At the same time, he worked on "Let's Try This," preparing it for its June premiere. This week he was thrust into rehearsals with the NHSO preparing the play.
Now as a rising junior at NYU, Kot said he loves being able to branch out and collaborate with other students, and has had the opportunity to work with people he wouldn't have worked with. At NYU, he thinks the environment is more like a learning environment than a student-teacher environment. He will bring all of this to his work with the ONSN on Saturday.
What excites him the most as a solo performer is not knowing where his improvisation will lead to a piece he knows, he says. When playing with others, the dialogue between fellow musicians and feeding off what each is doing excites him the most.
NHSO Marketing Director Katie Bonner Russo said the symphony is looking forward to Saturday's show. She described Kot as a "triple threat, incredible talent".
Learn more about the International Festival of Arts and Ideas here. Jhis piece is presented at Arts Paper as part of the fifth annual Youth Arts Journalism Initiative (YAJI), a program of the Greater New Haven Arts Council. Learn more about the program here or by consulting theLabel "YAJI". Makeda Murray is a sophomore and is homeschooled.