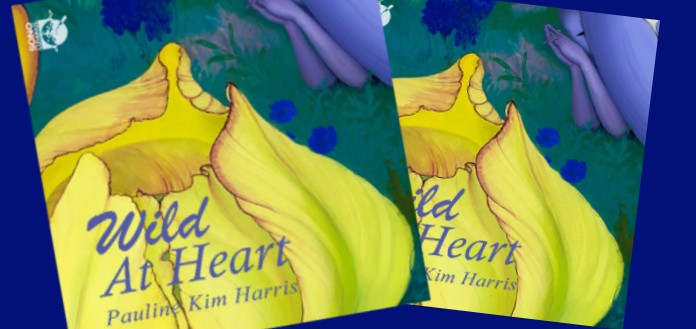 AVAILABLE NOW | Violinist Pauline Kim Harris New CD "Wild at Heart"
The four interpretations of JS Bach's Chaconne presented on this CD are "Shakonn" by Yoon – Ji Lee (2014), "pieces" of Elisabeth Hoffman (2018), "Long Waves and Random Pulses" by Annie Gosfield (2012), and "C-H-A-C-O-N-N-E" by John King (2013).
"Chaconne Project is a process of personal spiritual awakening through the Bach Chaconne – an iconic work that has been described as Bach's 'secret message in a bottle' to God," Pauline told The Violin Channel.
"It really started in 2012 when I turned to Bach's Chaconne for solace during a very difficult time in my life. I played it almost every day for a while. It would transport me to another world – a place where all the things I was feeling could be released freely. A desire to share that experience came to me and I think that's what ultimately inspired me to create Chaconne Project.
"A work like the Chaconne asks both performer and listener to engage with their whole heart, body and soul. Encountering one's own mortality exposes us to human frailty – a irreversible transition. I have found that the Chaconne brings to life three essential elements that nourish our soul: peace, gratitude and optimism. This leads us to be part of the collective force we inhabit known as the cosmos.
"As a response to Bach's Chaconne, all of these contemporary chaconnes echo reincarnations of Bach's iconic work through the unique voices of individual composers.
"Composers Yoon-Ji Lee, Elizabeth Hoffman, Annie Gosfield and John King on 'Wild At Heart' are close friends and collaborators to whom I owe so much gratitude for embarking on this journey with me.
"I look forward to connecting with my listeners along this journey and hope that along the way we can strengthen our spiritual understanding to bring positive energies to humanity through these shared experiences."
You can buy the disc on the Sono Luminus label, here.
Shakonn by Yoon – Ji Lee (2014) focuses on the internal connection between Bach, Harris and the composer. Yoon-Ji writes: "By pushing the Chaconne to an extreme point of transformation, the fragmented music merges into the different types of energy that Pauline and I create. While the new music creates traces of the Chaconne, Pauline also leaves her own traces through her voice, based on elements of her grandfather's sijo. In doing so, the three of us inscribe our beings in this evolving music, while my composition and Pauline's playing constantly revolve around Bach's musical materials.
"pieces" by Elisabeth Hoffman(2018) creates a world from small musical gestures. Hoffman explains, "The piece is an almost frozen world of minutiae, delicate and giving equal weight to the space shaped between the sounds. The universe of small simple gestures of the piece requires a different listening from that of a traditional phrasing.
Long Waves and Random Pulses by Annie Gosfield(2012) is an imaginary duo for violin and scrambled radio sounds, which Gosfield composed and studied at the American Academy in Berlin – where she studied archival recordings of scrambled radio signals used to jam transmissions during World War II world. Gosfield writes, "Materials that have influenced the piece include a six-note repeat from an Italian radio jamming device, a buzzing pulse used in German interference, and a quotation from JS Bach's Chaconne in D minor such as she could have been heard. in a scrambled broadcast.
John Kingdescribes his "C – H – A – C – O – N – N – E" (2013), as "a reflection on form, chaconne, using gestures and techniques that proceed from the complex to the simple; from multiplicities to single sounds in unison. He writes that "it is done in several sequences throughout the work and requires great physical strength and conceptual insight. Pauline has mastered all of this with her splendid interpretation."
You can find out more about the Chaconne project by Pauline Kim Harris, here.