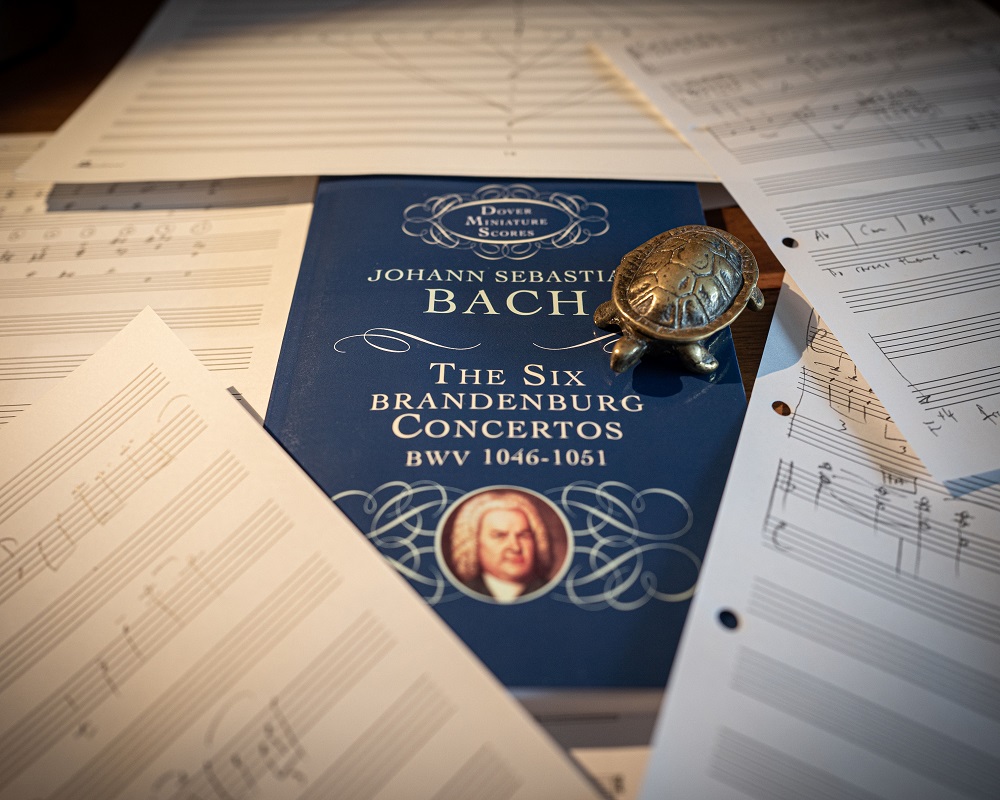 composer Michael Price on the response to Bach's Second Brandenburg Concerto
There are many ways to respond to great works of art – intellectually and emotionally, then visually, aurally and even by taste and smell, depending on the art in question. I usually close my eyes and remember a favorite piece of music, book, or person, and it seems like a luminous imprint forms behind your eyelids. You can try it now!
I've been fascinated by Bach's second Brandenburg Concerto since I was at school, mainly because I was a trumpet player, and Bach's super-high trumpet part was considered the Mount Everest of brass playing – a pinnacle that I have not reached several times. When I close my eyes and think of this peak, it often seems to sparkle and dazzle, and that was enough of a starting point to write The Malling Diamond, one of six commissions, each linked to a Brandenburg concerto, for [email protected]
Once the writing started, it was about building on that inspiration. Often the musical idiom in film and television music is set by the show and the story, and certainly influenced by the director and the producers, but I've always had, I think, a foundational musical voice, ever since my first compositions when I was a child. There's a particular way of going from one note to another that I think is almost unconscious for composers, but when you add up all the notes each starts to appear unmistakably its own. That's what I try to do in my concert work: try to find the next good note to follow the one I'm on. Sometimes it takes a while.
A particular aspect of writing this article included consideration of who the music answered. In other words, the particular group of instrumentalists that Bach uses in the Brandenburg Concerto No. 2 – woodwinds, strings, trumpet and harpsichord, in two distinct groups. This particular range offers many possibilities for interesting combinations, but on the other hand, there are also some balance issues. For a particular instrument to really stand out from the rest, you have to dig a pretty big hole in the orchestration. There's a section in the middle of the piece where a trumpet solo is accompanied by a faint shimmer of strings, down their range to really let the trumpet shine above. In other places, each of the actors has an equal role in the affairs.
Part of the great joy and challenge of writing a new play is that it's both a literally and figuratively blank sheet of paper (when it comes to writing for film and television, there are so many things that are already given). In this case, I found myself creating a musical "building" on the page.
There's a 10-note theme we hear directly in the first bar, which becomes nine, then eight, and counts down to a single final note, before the piece's underlying momentum kicks in. . He then seems to count from a note to 10 notes on the rhythmic movement of the group, and already one has the impression of being in a series of reflective surfaces, or facets of a jewel. After the trumpet solo, which seemed to me like a lost image trapped inside the diamond itself, the jewel spins again and we count our way to the light.
So although The Malling Diamond is not a story or a case to be solved in the same way as in a TV drama, I hope there is structure and form, and a journey that actors and listeners can go on. My own journey with the piece included some hidden gems. Like many of us, I recently worked from home and found a beautiful 1950s architect's desk for my office, in Yorkshire oak, on eBay (shown below). I cleaned it up as I wrote the article and drafted some of the number patterns. I think in another life I would have liked to design buildings, because music and architecture have more in common than you might think.
One of my favorite places to visit in all of London is the British Library's Musical Manuscript Cabinet. Highly recommend, if you haven't been there. You can see handwritten manuscripts from centuries ago, alongside much more contemporary pieces. I always find it amazing how similar the process is, putting pen to paper, but how different the times we live in are. This is what this particular commission shows: while fresh and engaging interpretations of old works show them in a new light, new works written for these same instruments tell us about the times we now live in.