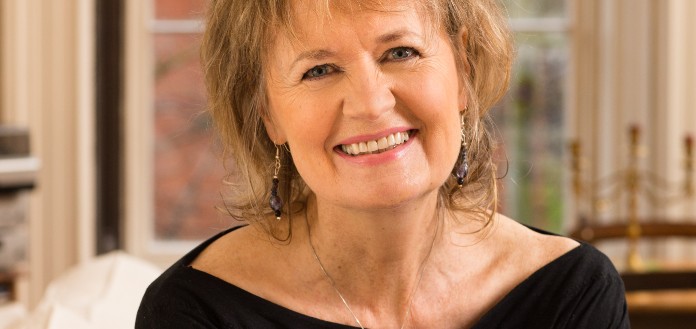 NEW MUSIC TUESDAY | World Premiere of "Distans" by Composer Sally Beamish
Sally Beamish recently spoke with The violin chain on his new job.
"My first idea was to tap into folk music from three countries: Sweden (Martin Fröst), the Netherlands (Janine Jansen) and Scotland (my adopted homeland for thirty years)," Sally told The Violin Channel. "I had heard Martin play folk music, as well as his album 'Roots', which explores many different musical genres.
"When I first found out that I would write this concerto, I wrote a short duet for violin and clarinet in preparation. This duet is part of a series of six chamber works that reflect my mixed emotions of I returned to my native country (England) in 2018. It forms the basis of the second movement of the concerto.
"When I started working on the concerto I was confined and unable to visit my family in Scotland or Sweden. Two of my children live in Sweden and I also have a grandchild there. The concerto became an expression of I learned Swedish, in order to feel more connected, and I gave the work its Swedish title: "Distans".
"Janine and Martin both have a powerful stage presence, and the idea of ​​dance and theater is an important part, as well as the contrasts and similarities between the two solo instruments.
"The first movement uses the idea of ​​Scandinavian wooden horns (lurs) which carry great distances and also of" kulning ", the high-pitched song used by women to call cows from pasture. Also the Swedish nyckelharpa – a violin keyed with many sympathetic strings, which was fun to recreate with the symphonic string section picking up the notes of the solo violin.
"The second movement develops the short duo, which explores Scottish sounds such as bagpipe drones and violin ornamentation. The final movement draws inspiration from Dutch Renaissance recorder music and a medieval song The work ends as it began, with antiphonic brass, and the voices of the soloists call out to each other across a distant landscape.
"I first heard Janine Jansen live in Falun, Sweden, where she was playing a Mozart concerto, and I also had a piece on the program. I was captivated by his game and spoke to him afterwards. A few months later, she sent me to ask me to write a concerto. I was absolutely delighted, of course. When we met in Amsterdam to discuss it, she suggested a double concerto with clarinetist Martin Fröst, with whom she is strongly linked in their work together. The original curators were the Concertgebouw, and three other orchestras joined us: the Swedish Radio Symphony, the Oslo Philharmonic and the London Symphony Orchestra.
"Imagining the two soloists, and their individual auras and sounds was extremely important. I could hear them all the time I was writing and referring to their interval recordings. I researched folk music from the three countries, as well as to early early music – when they used stones, birdbone pipes, cow horns, bells and voices to create sound and expression. This is something that must be common to all cultures. I created a color palette using all of these elements and stored fragments of melody, which I then reinvented in my own way, with my own ornaments and colors. My husband Peter Thomson is a playwright , and we often talk about dramaturgy in music, his suggestions were very important, leading me to think about the shifting relationship between the two soloists, and how to rhythm it properly and create a strong dramatic trajectory.
"I wanted to use virtuoso techniques in both instruments, and the violin part features overtone passages, bow staccato and double stop. The clarinet uses circular breathing and dramatic contrasts in dynamics, and the two instruments explore their entire extended virtuoso range.
"There are chamber passages, duets between soloists and orchestral soloists, as well as cadence-type passages for the solo duo.
"I hope there is a sense of connection in the music and that the audience experiences a journey. joining in dances and songs. I tried to convey a feeling of nostalgia, but also of playfulness and joy. In the end, a crossing of borders and a triumph over adversity. The 13th century Dutch song which I use in the last movement (the only melody I quote directly) tells the story of a princess who travels on her horse to hear a famous troubadour sing. She has been warned that he is dangerous and ends up in a field full of dead maidens – but she defeats him and returns home triumphant with her head severed. More of a grim story, but it also means bravery and optimism in the face of fear. "