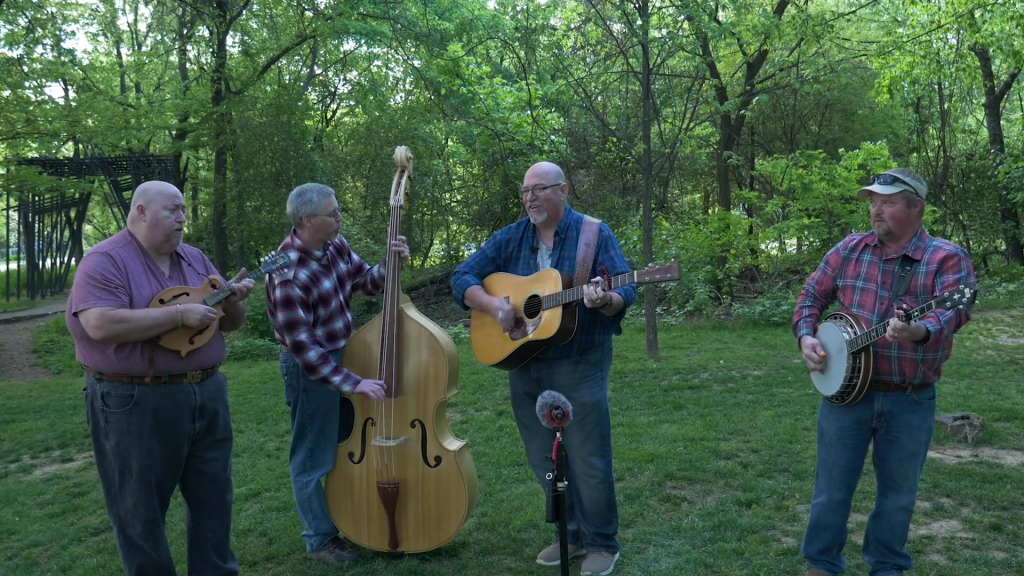 Scots-Irish Songs of The South – The links between Scotland, Ireland and the southern United States
For centuries poor migrants from the Scottish Highlands have traveled to the United States in search of a better future. With them came music, stories, songs and memories. With live broadcasts banned on both sides of the Atlantic during the Covid crisis, journalist James Mahon and producer Alex Preavett took the opportunity to hear folk and bluegrass musicians as they reflected on the impact what their music can have and how it keeps culture and history alive. .
Chattanooga bluegrass band Southwind feels the musical ties between the two nations on opposite sides of the world are more alive today than ever.
"As immigrants moved from this region of New England to the far reaches of North and South Carolina, from eastern Tennessee to Appalachia, they took these songs from their country into the mountains and continued to write their own stories, travel songs, dance songs, songs about the troubles and hardships they've been through, stories of love and heartbreak, toil and trouble.
These stories became the foundations of Bluegrass, with fiddles brought in and mixed with African and Caribbean instruments, including the banjo.
"I was born into it. My grandparents played and I was raised by them and that's all I ever knew was playing bluegrass. Thank goodness," say members of Chattanooga-based folk and bluegrass band Barefoot Nellie and Company.
4,500 miles away in the Scottish Highlands, Michelle went the opposite way of so many in the 1800s. She left Mississippi for Scotland to marry Scottish musician Rab Woods and explains that one shouldn't forget the journeys of our ancestors.
"Many Scots did not choose to leave Scotland. They were forced to cross the Highland clearances. So when they came to America, they really weren't ready to move on, not with their life, as far as their musical life was concerned or with the kinds of foods they ate, or you know, anything in their culture. So I think that they, the immigrants, really had nostalgia for the old country. And so I think that fell between the generations. You now have people longing for a place they may never have been.
For traditional Scottish and Irish musicians, the differences between modern Bluegrass in America and the tunes and reels they play in Europe vary but have important similarities.
"Every style of violin comes into its own when you think about the dance that goes with it. I think with bluegrass sometimes people claim there's no dance tradition with it, but even Bill Monroe would often clog up like a semitone on stage. So the really flat footing and clogging really goes with the bluegrass style. Whereas in traditional Scottish music, well, I find that when you're playing for Scottish dances, you try to play them from the ground, there's a lot of time spent in the air," explained Jeri Foreman, an Australian violinist who is now based in Glasgow.
For Southwind, the global crisis has given its members time to focus on the real value of music and its impact on crowds across the Willing State.
"It's a way of transmitting our history through song, that's how it has been transmitted from year to year, our fathers transmitted it to us, their fathers transmitted it to them. There was oral history long before there was written history. So the arts, music and visual arts, etc., are very important.
For Rab Woods in Oban on the west coast of Scotland, the global crisis has given him more time to record and write new material and he explains how, despite being different, it is the love of Bluegrass and its story of his homeland that continues to inspire him.
"Music has been the heartbeat of mankind for thousands of years and a means of expression and joy for people and it always should be."
Artists featured in this documentary and series
United States
https://barefootnellieandcompany.com
https://www.facebook.com/southwindbluegrassband/
Scotland
https://www.facebook.com/danielmeademusic/
http://www.laurawilkiemusic.com
https://encoremusicians.com/Jeri-Foreman
https://www.imaginealba.com/tonic
Drone video provided by https://www.facebook.com/Munrobagpiper/