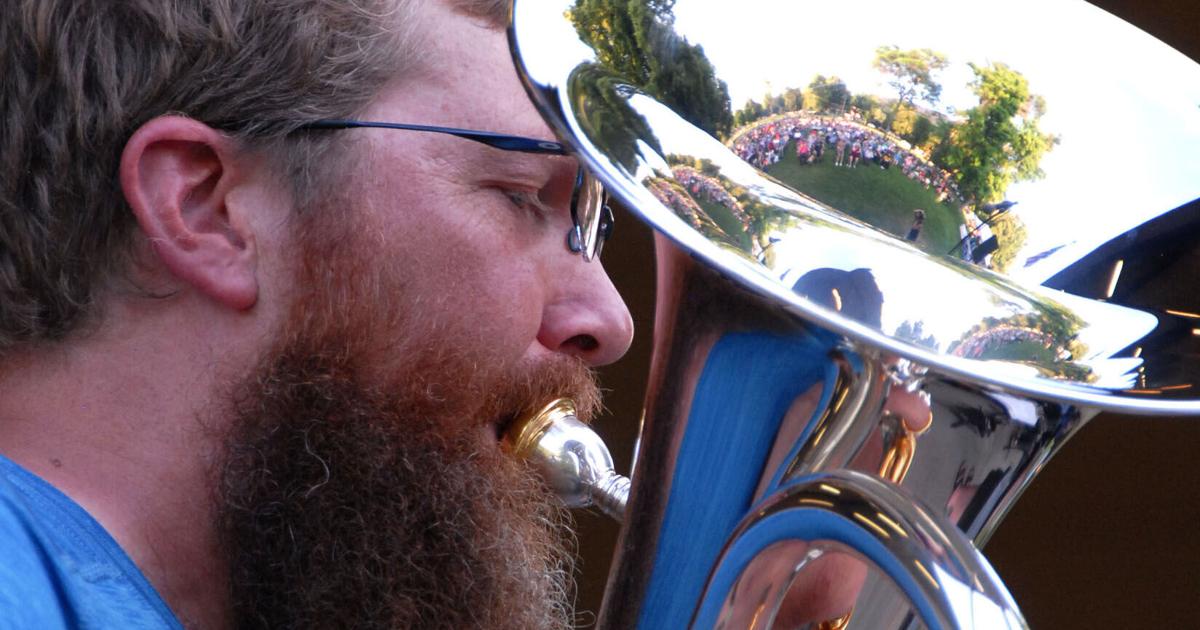 'Sunrise Over Angler's Roost': Composer Writes Symphony in Honor of Former Teacher | Local News
A former director of the Hamilton High School Band was honored with a symphonic composition written by an alumnus and performed by the Missoula City Band on Wednesday night.
"Sunrise Over Angler's Roost" is a symphony composed by Hamilton native Frank Felice in honor of Scott Southwick.
Southwick taught the group for 25 years – at Phillipsburg for six years and at HHS from 1975 to 1994.
After his retirement, Southwick led the choir at Faith Lutheran Church for 20 years. He sings with the Montana A Cappella Society, was in a quartet for the Stevensville Playhouse production of "The Music Man" and plays euphonium (baritone) with the Bitterroot Community Band.
"I stay busy making music, that's for sure," Southwick said. "Music is so many things, it's not just tunes. It can be healing, it can be meditative, and it can feel like a prayer. It can be happy and joyful. The bottom line is that music is good for the soul.
Southwick said Felice is "an amazing man, he was an amazing kid".
"He came to me in his freshman year and wanted to play in the pep band and I said, 'I can't use a guitar, but I can use a bass guitar,'" Southwick said. "He said he could do it. But the rule was that to be in the cheering band, the students had to be in the wind band. So he learned the double bass. He got into it. is taken like a duck to water.
Southwick said the following year Felice wanted to join the marching band, which has no guitars.
"So he learned euphonium (baritone)," Southwick said. "He just figured that out. He also sang in the choir, so the kid was gifted from the start."
Felice graduated from HHS in 1980, went to Concordia College, then earned his Masters and completed his Ph.D. at the University of Minnesota.
A professor of composition at Butler University, Felice was commissioned to compose a song for the 100th anniversary of the Butler Bands.
"I knew all my other colleagues would be playing big, fast, loud tunes and I wanted to write something slow, lyrical, and quiet," Felice said.
With former and current Butler Band managers playing the euphonium and having learned the brass instrument from Southwick, Felice decided to feature the instrument in the song, adding a euphonium solo.
Felice once wrote a piece for her high school choir teacher Virginia Vinal. Vinal was director of the HHS choir for 30 years, founding director of the Bitterroot Chorus, founding member of the Missoula Symphony and the Hamilton Players. She died in 2018 at the age of 91.
"I was like, 'I need to write a track for Scott,'" Felice said. "I combined all of that into this piece and since I'm homesick for the Bitterroot all the time, I thought of 'Sunrise Over Angler's Roost'."
He said the keyboard parts had special effects, a secret sample and a surprise melody.
"Anyone in western Montana will know this tune," Felice said.
Felice is a full-time contemporary classical composer and played keyboards during Wednesday's concert to load digital samples into the performance. He drove from Indianapolis, Indiana, to participate. He has attended numerous HHS class reunions and is staying at the Southwick home this week.
Felice said that after going out into the world and having a full-time career, he finds that small schools produce stellar musicians.
"Hamilton has been doing this for decades and decades and decades," he said. "You don't think about it and you don't realize it until you understand where these musicians are coming from. Hamilton has an oversized artistic reach.
He listed some big names and credited Southwick.
Felice said he wanted to live in Montana but enjoyed the opportunities of a bigger city.
"Globalization and the internet are making it easier, but in Indianapolis I have two orchestras in town, an opera company, three professional choirs, two original dance companies, plus stuff happening at my own college," Felice said. "Here I would have some (opportunities), but I would go out as much as I would stay here."
He says Montana is still in his heart and influences him on a daily basis.
"I have a western mentality about how I approach people, how I talk, how I interact with everyone," he said. "I'm wired for dry climates. I prefer to look up at my horizon rather than looking straight. It is the house. I come home, recharge and head back to the plains.
Felice and Southwick said they were grateful to the Missoula City band's manager, Gary Gillette, former chairman of the music department at Sentinel High School. Gillette heard the symphonic composition posted on Southwick's Facebook page, contacted Felice and received permission to perform "Sunrise Over Angler's Roost".
Southwick said he was grateful to Felice for writing a composition in his honor.
"I feel fulfilled," he said. "It's great to know that you had that kind of effect on someone a long time ago. As a teacher, the kids were more important than the music. Felice was a star.