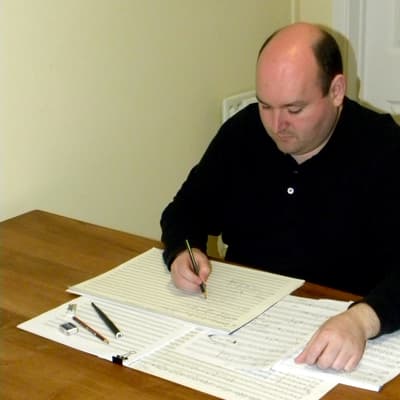 The composer's new work will be premiered during a concert
The premiere of a new work by composer Iestyn Harding will feature in the 50-piece Abergavenny Symphony Orchestra Summer Concert on Sunday June 26 at Church of Our Lady and St Michael, Abergavenny edited by Michael Bell, MBE.
Iestyn is the lead trombone and originally the work was put together during the Covid lockdown restrictions, with players recording parts separately and then combining them.
Now they have the satisfaction of playing together.
Entitled Sur le Bout des Doigts, meaning at your fingertips, the work is based on a Welsh fiddle tune called Pwt ar y Bys.
Variations of the melody also appear in English folk music as Buttered Peas.
The concert opens with Suppé – Overture, Morning Noon and Night in Vienna, followed by the Afternoon Prelude from a Faune by Debussy.
The new piece by Iestyn Harding opens the second part of the concert, which ends with Grieg's Symphonic Dances.
Abergavenny Symphony Orchestra is made up of musicians of all ages who live within a 40 mile radius of the town and is one of the oldest in the country having been founded in 1886.
The musicians continued to perform throughout the pandemic when they could, either virtually online or rehearsing together during times when restrictions were lifted.
Conductor Michael Bell was elected Music Director last year after serving as guest conductor for many concerts previously and has extensive musical experience with community orchestras.
He succeeded Dennis Simons, a conductor with extensive experience in the UK and North America who was instrumental in building up the orchestra with new members and is now its president.
The concert takes place at the Or Lady and St Michael's RC Church, Penypound, Abergavenny NP7 5UD on Sunday 26th June 2022 and starts at 7.30pm.
Tickets are £10 each, free for students and under 18s, and can be purchased online at
https://www.ticketsource.co.uk/abergavennysymph
If you cannot buy online, please call Simon Large on 07982 975459.
Composer Iestyn Harding is pictured above