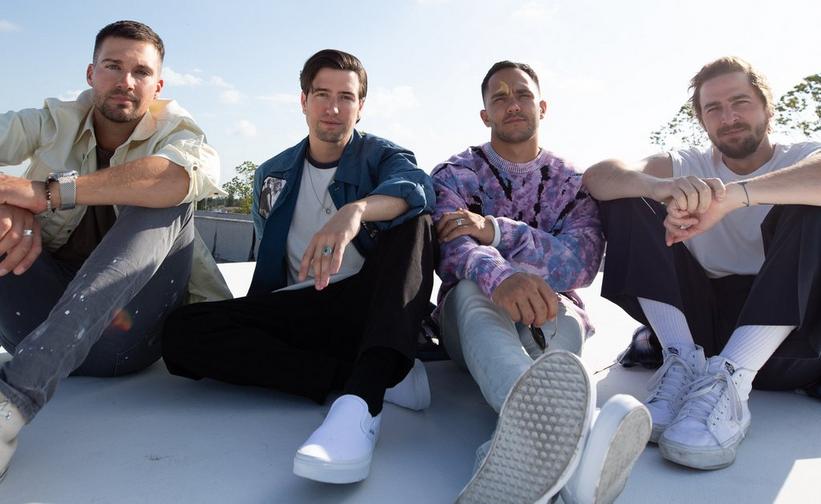 Just over a year after Big Time Rush announced their reunion, the TV-created boy band proved they weren't just cut out for a show. With 18 million social media followers and a 44-date North American trek — including a sold-out show at Madison Square Garden — the band have certainly made a comeback.
The quartet – Carlos PenaVega, James Maslow, Kendall Schmidt and Logan Henderson – was first formed to Big time Rusha "Monkees"-style Nickelodeon series that ran for four seasons from 2009 to 2013. Big Time Rush released three albums that spawned only a handful of hits ("Boyfriend" from 2011, which featured a remix with Snoop Doggand 2012 fall out-sampling "Windows Down"), but built a dedicated fanbase that couldn't wait for their return.
This time around, the band are released from their contracts with Nickelodeon and former label Columbia Records, officially taking ownership of the Big Time Rush name and music through their brazenly titled LLC, Bought The Rights. And as Henderson suggests, Big Time Rush is just (re)beginning.
"We have so much music that we're about to release," Henderson told GRAMMY.com. "We're always excited and hungry to keep finding Big Time Rush – what the sound is like, what it means to us, and records that really rock us."
They kicked off their reunion with the single "Call It Like I See It" in December 2021, which marked the first time the four members had contributed a single since forming. They have since released four new tracks, the most recent of which is their first Spanglish single "Dale Pa' Ya", a tribute to their Latin American fans. On August 25, they revealed five shows in South America for 2023, further confirming that they won't be slowing down anytime soon.
As Big Time Rush wraps up its tour of the United States, the guys share fond memories of some of their biggest hits, a few new songs, and one that, as they say, "took on a life of its own."
"Until I Forget You"
Schmidt: I remember a rented mansion for the music video. We were joking about it because the way the video turned out, it seemed like only the guys in the video liked us – like, the way it was edited at the end, we were like "Wow, it seems that all the girls in this music video hate us."
Maslow: We're currently playing this on our tour and it's one of the crowd's favorite songs every night. When we put together this little section with a bunch of classic songs, including this one, we really had no idea what to expect or how much we'd enjoy it over the new songs. But it's one of my favorite moments on the show, because everyone's having a blast, they know every word, and they're screaming that song out loud.
"Buddy"
PenaVega: We did some music videos for "Boyfriend", the first one was on the TV show. This one stands out to me because we were on the Paramount lot in the parking lot. They blocked off the parking lot for about two or three days and we literally had a carnival – ferris wheels and spinning machines, just a full fledged carnival that they rented out. They brought it in, they set it up, and we shot a music video. James rode a Ferris wheel with a plant.
Maslow: Highlight of my BTR trip right there.
PenaVega: This was probably the start of the TV show's epic music videos. We hadn't done such an elaborate one, and Nick really invested some money behind it. It was very fun. Then the second clip was obviously with Snoop Dogg.
Schmidt: Do you remember, in this video, the little green man in the cup? Now that I think about it, I'm like, "What's this all about?"
Henderson: We had this huge dance blackout at the very end, and we were sweaty because there were so many people in there and the air conditioning wasn't working. And Snoop is wearing this huge trench coat, and I was like, "How are you not sweating? It's so hot in here." And he said, "It's all in your head."
PenaVega: He said, "Being cool is a state of mind."
Henderson: I was like, "Okay, well, I'm going to pass out."
"Worldwide"
Schmidt: We did the clip at the airport, obviously. It was pretty wild.
Maslow: Renting out an entire airport just for a music video was another step up in terms of "Wow, things are growing."
Henderson: It's still our biggest song today. Even when we go to other countries, some of our fans speak very little English and it's the only song they know every word of. It really is such a special song to have with fans around the world.
Maslow: And when it comes to live performances, it's one of our favorite times, because we always pick one – usually four, these days – of the "global" girls. It's a great opportunity to get someone on stage and sing directly in front of a fan.
The song has aged well. Not so sure these dance moves have.
"Music Sounds Better With U" (feat. Mann)
Henderson: This song was a bit complicated, because there's a lot going on. Got a guitar sample from Shaka KhanRyan Tedder is the one who produced that one.
PenaVega: This song cost us a lot of money.
Ryan has since sold that house, I heard, but it was in Colorado. His basement has been transformed into a ginormous studio. It was still the nicest studio I've been to.
Henderson: We got to see where Adele recorded all those massive songs. You could feel it in the air.
"window down"
PenaVega: I was actually hanging out with justin bieber at the time, and I played this record to him, and he was like, "Yo, they offered this to me, and I passed it on." I was like, "Oh, really? Well, we take it!"
Henderson: Honestly, it works really well with four voices.
Schmidt: And again, getting a sample of Blur is huge.
Henderson: I don't know what happened behind the scenes for that. Probably something we don't want to discuss.
PenaVega: Again, it cost us a plot silver.
This clip is probably my favorite clip we've done. The boys and I took a trip to Maui and literally spent five days there, we had the best time ever. We went cliff jumping, did all that stuff, we had all this footage, and when we got back to filming the TV show, I did a quick little 25-second trailer like, 'Oh, here we are in Maui, what happens next?" I pitched it as a music video idea, and they said, "Let's go. The next month we went to Maui for a week and they paid for everything.
Henderson: We were like, "Haha suckers!" and then it got billed to us and we were like "Aww".
Maslow: It was long before the technology we have now, [where] we can have a GoPro that shoots in 4k or 8k. We had to custom build a waterproof case for a massive RED camera. So you had this six figure camera with some kind of janky plexiglass thing and our cameraman was going to jump off the cliffs with this huge splashing thing in the water, and we just kept praying, please don't don't put water in it.
PenaVega: The best scenes [were when] they mounted the cameras on the front of these jeeps and we drove around, just us and our, like, "video girls", hands up, going crazy.
Henderson: Why can't we make a music video like this anymore?
Schmidt: We can, in fact!
Maslow: I'm thinking Turks & Caicos for the next one, guys what do you say?
"Call It As I See It"
Henderson: It was the first [we wrote together upon reuniting] which sounded like a real Big Time Rush song.
Schmidt: There were a lot of Zoom sessions at the start of the pandemic, and it was really hard to make the connection. I know people have been writing great songs during the pandemic on Zoom, but it's definitely better to be in the room going back and forth. The same trajectory occurred [as it did in] the beginning [of writing songs together]where it took a while to get anywhere [good]
I feel like, in the funniest way possible – and I joke about it – but I feel like writing a song is kind of like a battle. You know? You are waging war against a brain fart. And everyone has an opinion, and they all matter, so he tries to weave something together to become a beautiful tapestry. It's a few metaphors.
Maslow: You can pick the cherries you want there. [All laugh.]
Schmidt: ["Call It Like I See It"] was actually just a party at James's.
Maslow: The record sounds like we're having a good time.
Schmidt: We felt like people needed a party, so we brought them the feeling of a party.
"Dale Pa' Ya" (feat. Maffio)
PenaVega: Our Latin American and South American fans have always been amazing with us. I mean, we put 30,000 tickets on sale to Mexico for this tour, and they sold out in six hours. It's seriously unreal. We've always wanted to do something to give back.
Maslow: And the number of fans said that they learned to speak English from our songs, in your opinion, we always felt – since we went to Mexico and Latin America, we felt such love for these fans . Just such a welcoming appreciation. We have always wanted to give back and show our appreciation and efforts in the other direction. [Motioning to Schmidt and Henderson] The three of us learned so much Spanish on tour there.
Schmidt: Carlos had a good head start.
PenaVega: The day we entered the studio with Maffio, he said to himself: "Let's make a song to make the world dance". I feel like this song, even though it's Spanglish, it's such a universal song. I feel like the world is going to hear it, and I want to get up with us to dance.
"The Turd Song"
Schmidt: "The Turd Song" has developed a life of its own. It was actually not that important to us at the time.
Maslow: Until this tour, we had never played this song.
PenaVega: We did it at a gig, and I was like, "Oh my god." I stopped singing, and everyone is screaming, and I'm like, "There's 10,000 people singing 'The Turd Song,' oh my god!"
Henderson: It's a bit grindy, but I just had to let Jesus take the wheel on this one.
PenaVega: We didn't make it to one show, and the next show there was a sign that said, "Justice for 'The Turd Song.'"
Schmidt: It was written in the script [for the TV show]and [when] we had the table read, none of us knew how to sing it.
Henderson: The creator of the show [Scott Fellows] literally 12 years old.
Schmidt: He probably just likes his creation to take its own turn.
Henderson: You know, we actually have legit music coming out.
PenaVega: A "Turd Song" remix! With Doua Lipa!
Maslow: Probably called Doo Doo Lipa.
Schmidt: Maybe we can get another one from Pooplo!
TWICE Details Their "Absolutely Magical" Growth And How "Between 1 And 2" Develops Their Relationship With Fans