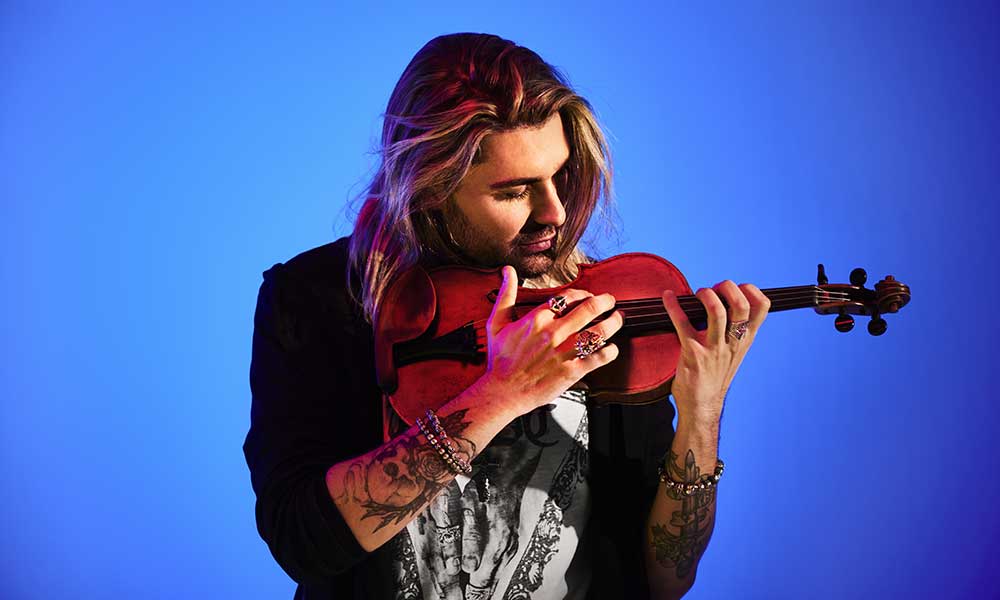 Violinist David Garrett named world's favorite musician in uDiscover Classical 100 |
Fans of crossover violinist David Garrett came out in force to vote for the musician to win the first-ever poll to find the world's most popular living classical artist, The uDiscover Classical 100.
David Garrett is one of the most popular classical and pop violinists in the world. He started playing the violin at the age of four and became the youngest artist to sign a recording contract with Deutsche Grammophon at the age of thirteen. He has performed with renowned orchestras and conductors, including Zubin Mehta, Claudio Abbado and Yehudi Menuhin. In 2007, he released his first crossover CD, Free, and every year since then he has released a crossover or classic recording. David Garrett's latest album, Alive – My Soundtrackis a personal collection of his favorite music.
David Garrett narrowly beat world-renowned tenor Andrea Bocelli in The uDiscover Classical 100, who came second, and violinist André Rieu who took third. Pianist Seong-Jin Cho reached fourth place while violinist Nicola Benedetti was voted fifth.
Pianists achieved the best results in the classical poll, with seven of them in the top 25: Seong-Jin Cho, Martha Argerich, Yuja Wang, Alfred Brendel, Lang Lang, Daniil Trifonov and Yiruma.
The violin was the second most popular instrument in The uDiscover Classical 100, with five violinists in the top 25: David Garrett, André Rieu, Nicola Benedetti, Itzhak Perlman and Hilary Hahn. The singers were also popular, with five being voted into the top 25: Andrea Bocelli, Katherine Jenkins, Plácido Domingo, Cecilia Bartoli and Sarah Brightman.
Simon Rattle and Daniel Barenboim are the only two conductors to make the list, alongside two composer-conductors, John Williams and Hans Zimmer. Yo-Yo Ma and Sheku Kanneh-Mason were the only two cellists, while trumpeter Alison Balsom and saxophonist Jess Gillam were the only wind players to reach the top 25.
The two youngest artists to reach the top 25 were saxophonist Jess Gillam, 22, and cellist Sheku Kanneh-Mason, 21 (at numbers 17 and 21 respectively).
A wide range of countries were represented in the top 25, including Germany, the United Kingdom, South Korea, China, Argentina, and the United States, among others.
More than 11,000 votes were cast in the classic ballot, open to voting from November 2020 to the end of January 2021.
The full list of the top 25 artists in The uDiscover Classical 100 is available here.
Do you want to be the first to hear the latest news from the classical world? Follow uDiscover Classical on Facebook and Twitter.