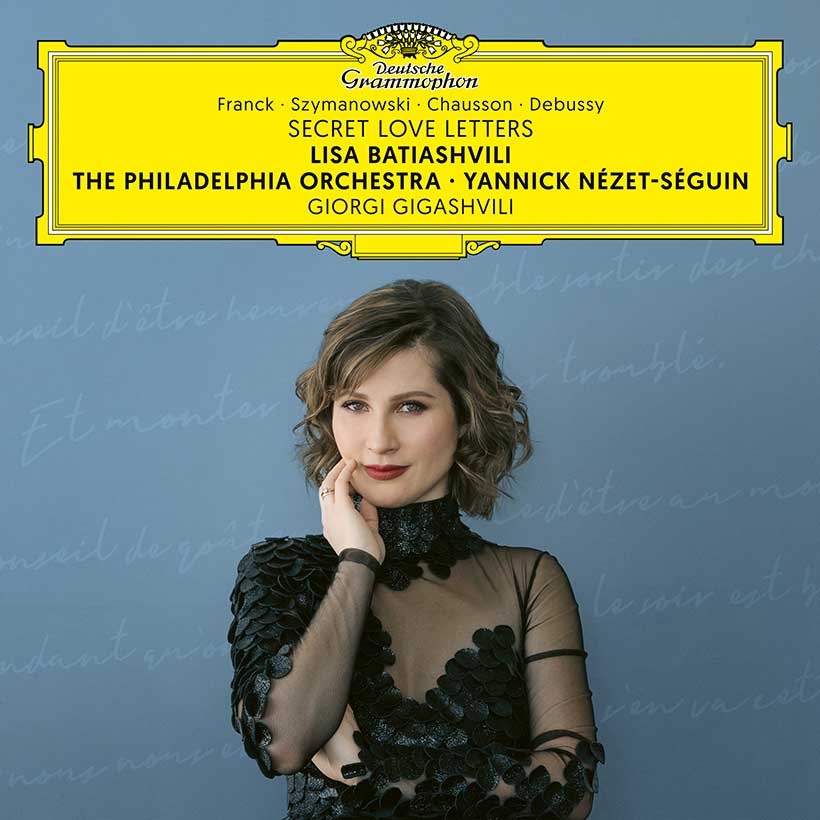 Violinist Lisa Batiashvili explores romantic music on 'Secret Love Letters' |
Violinist Lisa Batiashvili explores some of the most romantic music ever written on her new album secret love letters released August 19, 2022. The recording features evocative music inspired by late Romantic literature and great virtuosos of the past, including Karol Szymanowski's First Violin Concerto, Ernest Chausson's Concerto Poemby Cesar Frank Sonata in A major and Claude Debussy Beautiful evening. Lisa Batiashvili is accompanied by the Philadelphia Orchestra and its musical director Yannick Nézet-Séguin as well as the young Georgian pianist Giorgi Gigashvili. "Music, just like art and literature, has always been the most amazing way for artists to share secret messages and talk about their hidden loves and untold stories," Lisa Batiashvili explained.
"Music begins where words end"
"What would human life be like without this range of emotions and feelings that we believe cannot be shared with anyone? asked Lisa Batiashvili. "There are so many hidden messages in music, things that can't be put into words," she noted. "Something very obvious unites the four pieces I chose for the album, by Chausson, Debussy, Franck and Szymanowski. It's the message of love that's there in the music, in many different facets and colors, and a lot of that message is secret and intimate. Yannick Nézet-Séguin added: "One of my favorite quotes in life is that music begins where words end. What's so special about music is that it allows us to say things that sometimes we can't even express ourselves.
At the heart of secret love letters is the first violin concerto by Karol Szymanowski, the Polish composer's meditation on the poem by Tadeusz Miciński Noc Majowa ("May Night"), written in Ukraine during World War I and premiered in Warsaw in November 1922. "It is a play full of love and pain arising from the restrictions suffered by a man who was in love with another man at a time when it was both legally and morally forbidden," Lisa Batiashvili explained. "It's a dance between eroticism and compassion, between a dream world and harsh reality." The work was written for Paul Kochanski, who gave the American premiere with the Philadelphia Orchestra in 1924 at the Philadelphia Academy of Music, where Lisa's performance was recorded nearly a century later.
by Ernest Chausson Poem for violin and orchestra, composed in 1896, was based on a short story by the Russian author Ivan Turgenev who fell in love with the famous mezzo-soprano Pauline Viardot. Poem was inspired and dedicated to the great Belgian violinist Eugène Ysaÿe.
secret love letters also includes Franck's Sonata in A major for violin and piano, which the composer offered to the violinist Ysaÿe and his wife Louise Bourdeau as a wedding gift, and Yannick Nézet-Séguin accompanies Lisa on Debussy Beautiful evening, originally a song based on a poem by Paul Bourget, arranged for violin and piano by legendary violinist Jascha Heifetz. Lisa Batiashvili observed: "Debussy was a messenger of the most magical atmosphere, fantasy and purity imaginable.
European tour
Lisa Batiashvili will perform works by secret love letters with Yannick Nézet-Séguin and The Philadelphia Orchestra on their next European tour:
August 26: Edinburgh International Festival, Usher Hall
August 29: Hamburg, Elbphilharmonie
September 1: Berlin, Philharmonie
September 2: Dresden, Kulturpalast
5 September: Lucerne Festival, Kultur- und Kongresszentrum
September 7: Paris, Philharmonie de Paris
September 9: London, BBC Proms, Royal Albert Hall
Lisa Batiashvili's new album secret love letters will be released on August 19, 2022 and can be pre-ordered here.
Do you want to be the first to hear the latest news from the classical world? Follow uDiscover Classical on Facebook and Twitter.