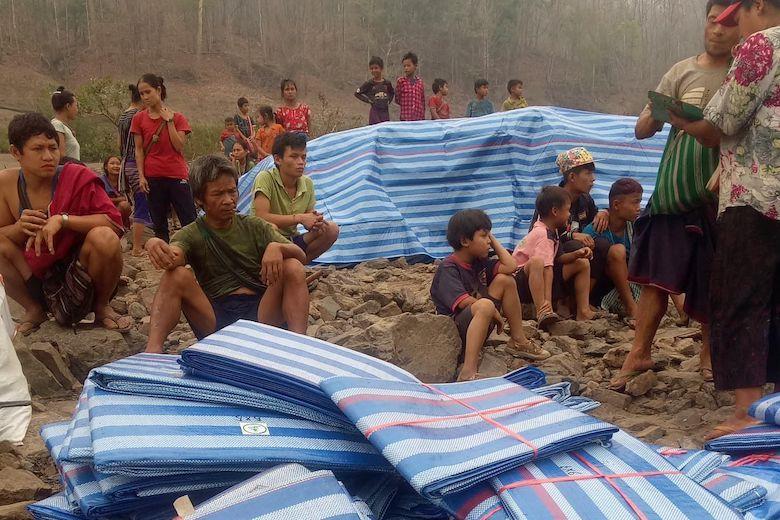 Violinist Ruth Rogers on the recording of Letters from Burma | Blogs
At the beginning of the year, I had the chance to be filmed playing Roxanna Panufnik four world seasons with the London Mozart Players for our recent online concert series. This series has helped our players stay active during lockdown and start generating revenue for musicians desperate to get back to work. During the session, Roxanna, who is LMP's inaugural Associate Composer, mentioned that she noticed Letters from Burma for orchestra, a piece originally written for string quartet and oboe, which I had performed years ago at a charity fundraiser. At the first mention of Burma, my ears perked up.
I went to Thailand in 2008 to play for Burmese refugees on the Thailand-Burma border. It was a moving experience to visit a refugee camp that has existed for 20 years to provide "temporary" accommodation for 50,000 people. Last February, we were all shocked by the news of the army seizing power in a coup and launching a brutal crackdown. Who hasn't seen the images of demonstrators demanding the reinstatement of their democratically elected leader, or of nuns with outstretched arms begging the military not to shoot? Aung San Suu Kyi was returned to house arrest and has only been seen once since the coup began. I find it hard to believe that Burma has returned to such turmoil, after all the progress of the last decade. It is shocking, disconcerting and incomprehensible.
My brother, Benedict Rogers, is a political activist (he works as a senior East Asia analyst at the human rights organization CSW) and writer, who has published several books on Burma. In many ways, we couldn't be more different. He monitors human rights violations – he was blacklisted and deported from Hong Kong – and I play the violin. But going to Burma that year gave me an extraordinary insight into his life. When Aung San Suu Kyi visited the UK for the first time in 20 years and was invited to the House of Lords, I was asked to organize an orchestra to play for her at Westminster Hall. Aung San Suu Kyi is known for playing Pachelbel's Canon on the piano under house arrest, although she is modest about her musical abilities. Meeting her on this occasion, I was struck by her dignified elegance and how her tiny, fragile figure commanded respect.
When Roxanna mentioned Letters from Burma, all those memories come flooding back. Roxanna's piece is directly inspired by Aung San Suu Kyi's collection of letters of the same name. I approached our Managing Director Julia Desbruslais about the idea of ​​filming the orchestra performing Roxanna's deep and insightful piece to raise awareness of the humanitarian crisis in Burma and raise funds for refugee charity Advance Myanmar.
We asked each musician individually if they would support this cause, and together with oboe soloist Olivier Stankiewicz, all agreed to donate their time for free. After a year in which concert halls remained mostly closed, leaving musicians helpless and feeling redundant in the pandemic, this is a project that has given us a renewed sense of purpose, an incredible feeling that we all steer the ship together. All the new experience LMP has gained over the past year broadcasting our concerts – launched first at Westfield Shopping Centre, first for free, then behind a paywall from St John's Smith Square – has been the perfect trial run blank for filming. Letters from Burma.
Three weeks ago we met again in St Martin-in-the-Fields to record Roxanna's track. Ben came to the session to remind us of the humanitarian crisis in Myanmar – tens of thousands of people are displaced by military attacks, nearly 900 people have been killed and 5,000 are still in prison. Ben introduced the players to Burmese refugees who explained their stories. Any sense of hardship related to the lockdown dissipated as we heard of the pain and suffering of loved ones shot and families fleeing in fear for their lives. Our Burmese guests have explained that they cannot have any contact with their families for fear of compromising their safety. It is always important to take a step back and our concerns have become insignificant next to these first-hand accounts. There was a huge sense of camaraderie as we picked up our instruments and a wonderful feeling that we were doing something that really mattered.
Roxanna's piece is divided into four movements, including Thazin, inspired by the Burmese orchid, a romantic national symbol, Kintha Dance, based on a national sword dance, and Aung-ze-Paing-ze, based on a Myanmar traditional folk song about the power and valor of the king. Most moving is the second movement, Young Birds Outside Cages, from Aung San Suu Kyi's letter of the same name:
"During the years of my house arrest, my family lived in a free society [England] and I could be assured that they were economically secure and free from any form of persecution. The vast majority of my colleagues who have been imprisoned have not had the comfort of such assurance. […] Political prisoners must address their families through a double barrier of iron gates and wire mesh so that no physical contact is possible. The children of a political prisoner made small holes in the net and stuck their fingers in to touch their father. When the holes became visibly large, the prison authorities had them sealed with thin tin foil. The children would go back to trying to drill their father: it's not the kind of activity you would want for any child.
Read Violinist Ruth Rogers' blog from the Thailand-Burma border – Part One
In this second movement, the oboe solo becomes the child, with a birdlike melody, while the orchestra plays strong, hard chords like the bars of the cage. Roxanna's compositions are always colorful and evocative and this one is no exception. His music sounds so free and I was struck by the irony that freedom is exactly what Burmese people aspire to have.
Once a beacon of resilience and hope for democracy, the Nobel Peace Prize winner has failed to live up to expectations, with her reputation now tarnished by the treatment of displaced Rohingya.
Today, Aung San Suu Kyi is again being held in a secret location, cut off from everything and everyone. Letters from Burma once again takes on the same intensity as when she was first placed under house arrest. As I write this, to announce that our Letters from Burma concert will air starting next week for Refugee Week, news has just reached us that Aung San Suu Kyi will be judged at the same time. It would be so amazing if Aung San Suu Kyi could see our music offering. My greatest hope is that Burmese see it and know they haven't been forgotten. We stand in solidarity with them and look forward to hearing good news about their country. There should always be hope.
Letters from Burma can be viewed for free at https://www.londonmozartplayers.com/letters-of-burma/
To learn more about Advance Myanmar, click here