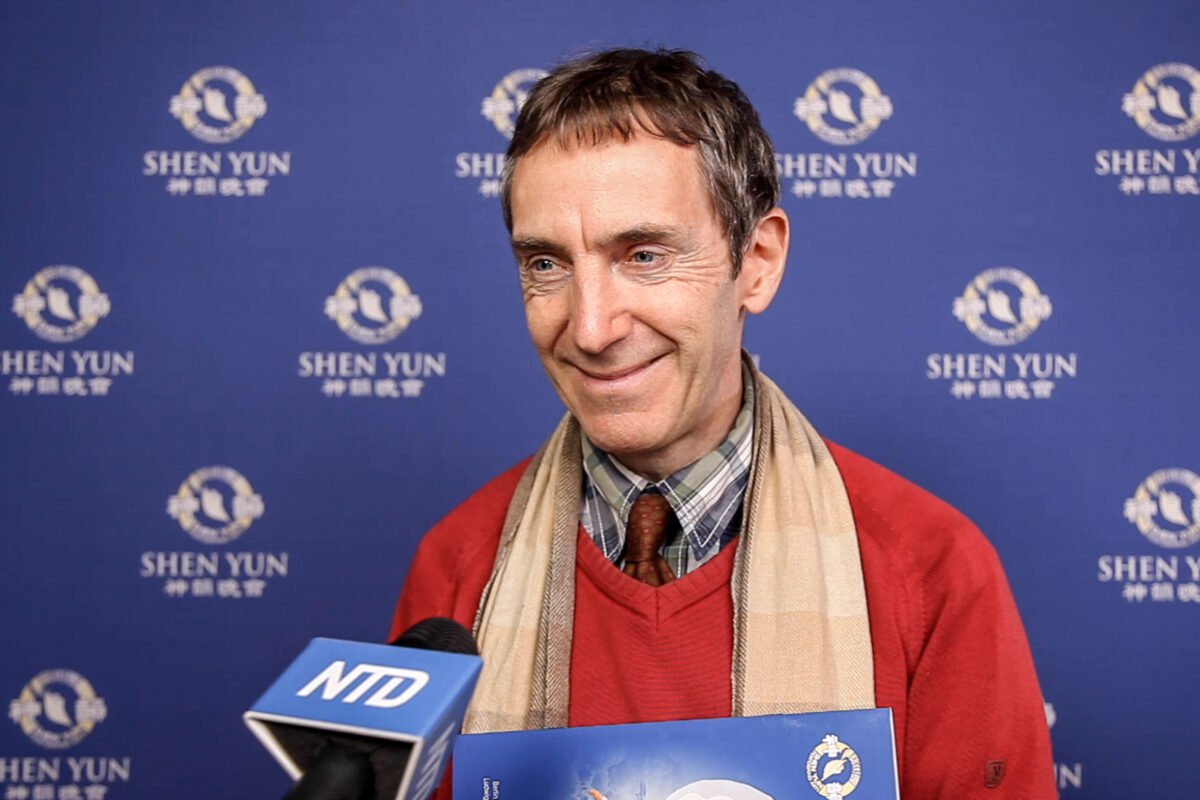 Composer Says Shen Yun is a Once in a Lifetime Experience
FUESSEN, Germany—Music is the flow of notes through time and Shen Yun Performing Arts takes that timing to a whole new level with its live orchestra perfectly timed to match the dancers and a digital backdrop.
Graham Waterhouse is a composer and cellist originally from London, now living in Munich, Germany.
He was particularly impressed with how all the components of Shen Yun fit together so perfectly.
"Incredibly well rehearsed! I know how long it takes to find a coordination between the scene, the music and the graphics in addition, of the very high level and remarkable!
Shen Yun is based in New York and its orchestra consists of a classical Western orchestra while emphasizing Chinese tradition instruments like the pipa and the erhu.
"The music was very colourful, so beautifully orchestrated," Mr Waterhouse said. "I was more focused on the dance, which was so amazingly put together and so perfectly rehearsed."
Shen Yun's dancers are trained in classical Chinese dance, and many viewers associate the tumbling techniques in the show with gymnastics or acrobatics, but they actually come from classical Chinese dance.
"Also those acrobatics. As a child, I also did gymnastics and it reminded me [of it]. [This is] a once in a lifetime experience. I hope it lasts a long time and continues to inspire audiences in many cities around the world!
"You definitely get that energy, especially through the movement of the dancers," he continued.
"I liked these stunts the most because you get such an uplifting feeling when they dance. And they do it so skillfully that you seem to experience non-gravity for a second as if there's no gravity, like you have no weight. And it's an uplifting feeling to watch!
'Another world'
3D animators Silke Holzach and her husband were also in the audience. Prior to working from home with her husband, Ms. Holzach was responsible for video animation for the Bavarian State Opera.
"It's another world that is so different from here at home. [It] is truly another dream world that I was taken on a little journey into," Ms. Holzach described.
Shen Yun uses a patented animated projection to extend the stage endlessly and allow dancers to enter different worlds and different eras.
"I found that particularly exciting because in the past in theater it was particularly important to me to see how you can connect this virtual world to the real world – that fascinated me a lot," Ms Holzach said.
"I thought it was incredibly beautiful how the dancers always jumped and how they then continued in the video, I thought it was very well implemented. I liked it a lot."
She said that Shen Yun had inspired her.
"I felt very inspired. I found it incredibly beautiful to see, to hear too, how the beauty of the dance, the beauty of the movement came closer to the audience and I felt really carried away. I really liked that the dancers could carry you away with their sparkle, with their smile, with the costumes, with the music. I found it very beautiful," she said.
Ms. Holzach shared her appreciation for the unique use of Shen Yun Color.
"What I really liked was this other universe of colors that I perceived here, which is different from what we do. I liked that the color saturation was incredibly intense. I have never been to an Asian country but I imagine that the nature there is really incredibly intense and colorful and that delighted me. [It] really got me.
Reporting by NTD and Maria Han.
The old times is a proud sponsor of Shen Yun Performing Arts. We have covered audience reactions since the establishment of Shen Yun in 2006.